01/03/2016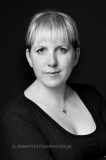 Cassiopée. If you had to name a place to introduce yourself, which one would it be and why ?
Clare Mackintosh. That's easy: Paris. I lived there for two years and still miss it terribly. I spent much of my time in bookshops, browsing for second hand books, and it would be wonderful to go back as an author.
C. Why did you chose to leave the police to become a journalist and writer ? Is it related to a desire to write ?
C.M. It was mostly because I was being a terrible mother to my children. I was working full time and hardly saw the children (then aged 3, 2 and 2) because I had such a demanding career with such long hours. At the same time I was feeling creatively unfulfilled and wasn't enjoying life very much. I took a career break to look after the children, but I still had to earn money. Writing was the only thing I knew how to do, so I launched myself as a freelance feature writer, and began working on a book. It was a big gamble, but it paid off and I've never been happier.
C. Did you draw your inspiration from your previous job to write this book or to develop some of the characters ?
C.M. In 2000, just after I started my career in the police, there was a tragic hit and run in Oxford, England. It killed a nine year old boy and sent shockwaves through the city. I didn't work directly on the case, but I was profoundly affected by it. I couldn't understand how anyone could drive away from such a terrible act, and I couldn't see how the child's mother could ever survive such a tragedy. Many years later I lost my own son – in very different circumstances – and I began to understand the impact grief has on one's life. The more I considered this, the more a story took shape. There are elements of my own personality in many of the characters in I Let You Go. As a young detective constable I was as determined as Kate, and I have definitely been as blind as DI Ray Stevens. I'm very fond of Ray's wife, Mags, at home with the children after giving up her own police career, and definitely sympathise with her. But it's really Jenna I can relate to most strongly. Jenna's grief for her son is my own, and I sobbed through many of the scenes in I Let You Go.
C. Do you have favorite writers and which ones ?
C.M. My favourite writers change all the time! I'm a huge fan of Sophie Hannah, and I love Gillian Flynn and Lisa Gardner. I read lots of crime novels and psychological thrillers, but I also love strong contemporary women's fiction, like Me Before You, by Jojo Moyes.
C. Your book offers an unexpected twist which bluffs the reader. Did you get this idea to surprise from the beginning ?
C.M. The twist was the first element to arrive. I knew exactly what I wanted to achieve, and why I wanted to do it, and I knew that if I could pull it off, it would provoke an extraordinary reaction among readers. From there it was a question of letting the story take shape around it.
C. You're published in numerous countries, did you go to meet your readers and sign yours books ?
C.M. Last year I went to around 50 events in the UK, and loved meeting readers and signing books. This year I'll be in Denmark, Norway, Holland, Mexico and New Orleans, with lots more still to come. It's an exciting and unexpected benefit to being an author, that I'm very much enjoying!
C. Do you think that past always catches up with us as in your fiction ?
C.M. I think that our past has a huge influence on our lives; whether in a positive or a negative way. When you've experienced something significant - trauma, death, love, loss - it defines the way you live your life; the decisions you make and the relationships you have.
C. Are you writing another book ? Could you tell us a few words about it ?
C.M. I'm writing another psychological thriller. It's set in London, and it's about a woman who sees a photograph of herself in the classified section of a free newspaper and sets out to discover why it's there. It's very frightening and I've loved writing it.
15:31 Publié dans 07. Les plus récents entretiens avec des auteurs | Lien permanent | Commentaires (0) | Tags : interview, clare mackintosh |
Facebook | |